Boulder Tools Heavy Duty Tire Repair Kit for Tubeless Tires on Cars, Trucks, Trailers, Motorcycles, ATVs, RVs, Tractors
Product image 1
Product image 2
Product image 3
Product image 4
Product image 5
Product image 6
Product image 7
AVOID THE TIRE SHOP & REPAIR ANY TUBELESS TIRE WITH OUR VERSATILE HEAVY-DUTY FLAT TIRE REPAIR KIT FOR TUBELESS TIRES.
Our professional grade comprehensive tire plug kit gives you everything you need to repair punctures that occur in the tread of a tubeless tire.  Great for cars, trucks, jeeps, tractors, motorcycles, ATVs, side by sides, lawn mowers, RVs and any other tubeless type tire.
PREMIUM UPGRADED STRINGS
Heavy-duty brown strings you can trust to provide a superior safety seal. MUCH STRONGER and repair much better than the CHEAP strings found in budget kits. Every aspect of the Boulder Tools Tire Plug Kit is engineered to be strong so that it will be the last kit you'll ever have to buy.
NOT BLOATED WITH CHEAP PIECES YOU'LL NEVER USE
We didn't stuff it full of pieces so we could sell you on the piece count.  We put a lot of thought into the composition of our tire plug kit.  It has everything you need to get your tire repaired, includes a few bonus accessories just in case, all without over-stuffing your case making it hard to find what you need.
LIFETIME WARRANTY
We build our tools to be heavy-duty and long-term durable.  If you're strong enough to render one of our tools ineffective, our auto tire repair kit is covered by a lifetime warranty and our customer service is second to none.
Tire Repair Kit Contents:
1 pc Heavy Duty T-Handle Insert Tool
1 pc Heavy Duty T-Handle Spiral Probe
1 pc Insert Needle Replacement
2 pcs Hex Keys
30 pcs 4" Repair Cords
1 pc Long Nose Pliers
1 pc Upgraded Knife
1 pc Tire Pressure Gauge
1 pc Jar of Lubricant
1 pc 4-in-1 Valve Core Tool
4 pcs Black Plastic Valve Caps
4 pcs Black Plastic Valve Extenders
4 pcs Chrome Hex Valve Caps
4 pcs Valve Cores
1 pc Molded Storage Case
Customer Reviews
11/23/2023
Travis C.

United States
I recommend this product
Where is my order
Hard to say! I haven't received my tire repair kit yet!
11/19/2023
Anonymous

United States
I recommend this product
Still Haven't Received
It's been 2 months, multiple times I've contacted the company, and it still hasn't been delivered. They emailed me a few days after I filed a dispute with my bank, saying they've prioritized my request, but still been 2 weeks since then with no additional followup.
11/08/2023
john k.

United States
Havent Receaved yet
phone No. / package tracker w/out using scan
07/01/2023
Scot S.

United States
I recommend this product
Haven't received them yet
Sure wish the company would make sure the customer received the product before they ask for feedback.
11/11/2022
Anonymous

United States
I recommend this product
Tire repair kit
I purchased this kit back in February hoping this was a better quality kit than your typical Walmart sets. My first time using it the T-handle on the ream tool snapped right off. I've used a plastic kit from walmart for years without and issues. Needless to say Im extremely disappointed with this kit.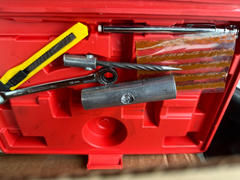 08/23/2022
Michael F.

United States
I recommend this product
High quality
Haven't used it yet, but this is a high quality complete set
04/29/2022
Craig D.

United States
I recommend this product
Well Done
Wow- I haven't needed to use it yet, but this is surely going to do the trick when I do. I love the lube, since jamming a bacon strip into a tire can be a pain at awkward angles. Amazing customer service as well. Pair this w/ a Ridgid Portable Air Pump and you are GOOD TO GO. I'll be ordering one for my wife's car as well since switching it around is a pain. Great kit! A++
11/15/2021
Kell B.

United States
I recommend this product
Quality kit with everything you need
This tools in this kit appear to be of good quality, but also, you get everything you could possibly need all packed into one neat case. That includes extra valve cores and the tool to install them.
10/01/2021
Cheryl P.

United States
I recommend this product
Tire repair kit
Yep greet Christmas gift for any man or person that is out in open arc or bike running, great lire saver for motor home.